Good Health and Well-being
Student
Julia Weimer
Member since May 16, 2018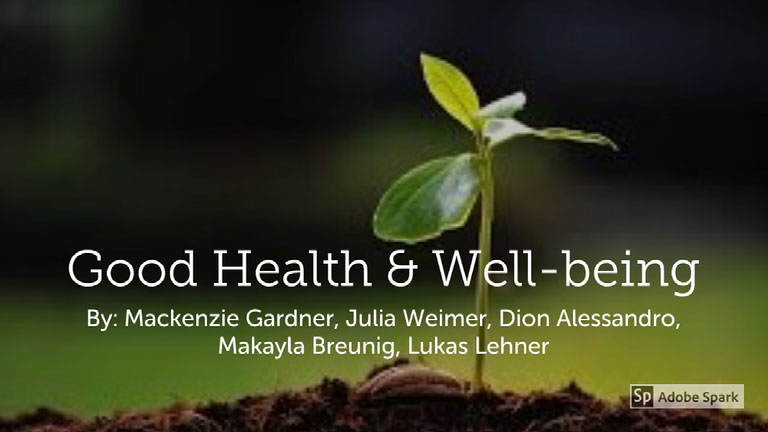 Good Health & Well-being
1 in 4 Americans refuses medical care due to a lack of funds (according to a 2017 article in the New York Post). Many people have a difficult time receiving proper and reliable healthcare due to large expenses. We, as a dedicated group from Cañon City High School in Colorado, decided our way of helping would be supporting our school's blood drive, as well as informing people about everyday health problems. Our blood drive has been and continues to be a massive success. As usual, our school had a large number of young and able students donate blood to those in need. In just one blood drive, we managed to donate 76 pints of blood. From the school, the blood goes to the hospital where it is distributed to various departments. Most of it goes towards accidents, as well as surgeries and other medical procedures. Some of it goes to the oncology center to be used for illnesses such as leukemia, lymphoma, and other types of blood-related diseases.
Our team also assisted by giving students resources and education to help themselves if they are in need. We made brochures and papers for our counseling department at the high school for students that don't necessarily feel comfortable talking to a counselor. Our brochures include problems and issues that many high schoolers face on a day-to-day basis such as stress, anxiety, and depression. We also made brochures to be put in our nurse's office about more basic, everyday illnesses such as mono and strep. We feel that if high school students are more educated on these topics, there is a higher chance that they will understand how to identify, cope with, and treat these physical and mental disturbances, should they arise.
If you or someone you know would like to help and get involved, encourage them to donate blood, time or money to local health charities, educate others, and support the spread of medical and health information to those who may need it. One small action can help many people and maybe save a life.
Cites
https://nypost.com/2017/06/07/1-in-4-americans-refuse-medical-care-because-they-cant-afford-it/
https://www.consumerreports.org/doctors/online-doctor-ratings-why-you-cant-always-rely/
https://www.pexels.com/search/nature/
https://www.accenture.com/us-en/insight-artificial-intelligence-healthcare
http://bukisa.com/articles/770669_7-t%D1%96%D1%80%D1%95-f%D0%BEr-super-health/
http://www.myhdiet.com/healthnews/health-news/heart-health-is-of-course-essential-but-how-do-you-maintain-a-healthy-heart/
http://stylecaster.com/beauty/health-quotes/
http://oregonsportsnews.com/why-exercise-is-essential-in-the-prevention-of-disease/
https://simonstaffans.com/2015/09/10/the-art-of-finding-an-audience/
https://health.usnews.com/health-news/health-wellness/articles/2013/07/30/3-meditation-techniques-for-beginners
https://thechangetrend.com/knowing-drugs-raise-blood-pressure/
https://singularityhub.com/2018/01/15/are-solar-roads-the-highway-of-the-future-or-a-road-to-nowhere/
https://www.uwmedicine.org/services/reproductive
https://www.youtube.com/watch?v=QsfjEh7AfN0
http://www.earthtimes.org/scitech/giant-rivers-water-air/2408/
https://worldofweirdthings.com/tagged/scientific-research
https://www.healthline.com/health-news/will-gene-editing-allow-us-to-rid-world-of-diseases
http://globalresponsibility.eu/goal-3-good-health-well-being/
https://www.youtube.com/user/who
http://northafricapost.com/19040-morocco-success-story-fighting-aids-mena-region-unaids.html
https://en.wikipedia.org/wiki/Centers_for_Disease_Control_and_Prevention
https://globenewswire.com/news-release/2018/04/11/1468470/0/en/Inovio-Awarded-up-to-56-Million-from-CEPI-to-Advance-DNA-Vaccines-Against-Lassa-Fever-and-MERS.html
https://www.o-cinema.org/event/dwob-access-to-the-danger-zone/
http://healthqm.com/find-health-care-insurance-services/
http://www.randyscottslavin.com/alternate-perspectives-1/
https://iphonephotographyschool.com/perspective-photography/
https://www.picturecorrect.com/tips/10-tips-for-taking-more-interesting-photos/